Renters Insurance
If you're a renter, you may not be thinking about insurance, since the building you live in is covered by your landlord's insurance policy. More often times than not, you and your personal property are not covered by your landlord's policy. Contact us to discuss the right options for you.
Click each item below for more information.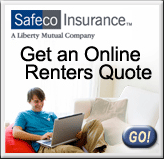 Personal Property Coverage
Renters insurance protects the things that matter to you – like your clothes, furniture, and electronics.
Additional Living Expenses
If you can't live in your rented property because of a covered loss, your policy will pay additional living expenses while damage is assessed and repairs are completed.
Personal Liability
A standard renters policy provides personal liability coverage, which applies anywhere in the world. This protects you and your family in case someone brings a claim against you or sues you, alleging that you caused them either bodily injury or property damage.
Medical Payments
This covers medical expenses for guest if they are injured on your property. It does not cover health care costs for you or other members of your household.
Additional Coverage
Your personal property is distinctive and additional coverage is available to fit your needs. Just a reminder, most renters policies do not include coverage for Earthquakes or Flood so be sure to contact us about these and additional coverage options for you.
You May Qualify for Discounts
Multi-Policy
Burglar Alarm
Fire Alarm
FAQ
Click on each question below to read the answer.
Q. Why should I buy renters insurance?
A. If you rent an apartment or house, renters insurance provides important coverage for both you and your possessions. A standard renters policy protects your personal property in case of theft or damage and may pay for temporary living expenses if your rental is damaged. It can also shield you from personal liability. Anyone who leases a house or apartment should consider this type of coverage.
Q. How does a renters policy protect my personal property?
A. A renters policy provides named perils coverage. This means that the policy only pays when your property is damaged or destroyed by any of the ways specifically described in the policy.
Q. Why do some apartment complexes require tenants to have renters insurance?
A. Apartment complex owners buy insurance policies to cover liability, and their buildings and personal property. These policies do not, however, cover tenants' property or liability. By requiring their tenants to have renters insurance, the apartment owner ensures that tenants do not assume that their liability and personal property are covered by the owner's policy. Even though this requirement benefits the apartment complex owner, it also benefits the renter. We recommend that you purchase renters insurance regardless of what your landlord requires.
Q. What if I share my apartment with a roommate? Do we both need to have renters insurance?
A. A standard renters policy covers only you (the policy holder) and any relatives that live with you. If your roommate is not a relative, each of you will need your own renters policy to cover your personal property and to provide liability coverage for your own actions.