Automobile Insurance
California State Law requires that all drivers maintain auto liability insurance. Give us a call and we'll help you determine the amount and type of insurance you need.
Click each item below for more information.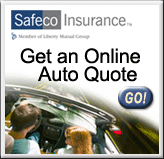 Liability
This coverage pays bodily injury and property damage to others for which you are responsible. California requires that you maintain liability limits of at least $15,000 per person, $30,000 per occurrence for bodily injury and $5,000 for property damage. Give us a call to determine what limits of liability are recommended for you.
Medical Payments
This coverage pays medical and funeral expenses for injuries sustained by a covered person in a car accident. Medical Payments coverage pays covered expenses regardless of who's at fault in an accident.
Uninsured / Underinsured Motorist
Uninsured Motorist covers you in an accident with a motorist who has no insurance or is underinsured.
Collision
This coverage pays for repairs to a covered auto that is damaged by a collision with another vehicle or object.
Comprehensive
This coverage pays for your car if it is stolen, vandalized, or damaged in some way other than in a collision.
Towing and Labor
This coverage provides towing to the nearest place where necessary repairs can be made, change of a tire, and towing if it is broken down on or next to a public street or highway. This coverage is usually limited to a dollar amount per incident.
Loss of Use
This coverage provides a rental car when there is a covered loss. This coverage is usually limited to a daily dollar amount.
Additional Coverage
Additional coverage may be available to fit your auto insurance needs. Contact us to discuss specific options for you and your autos.
You May Qualify for Discounts
Good Driver
Good Student
Occupation
Air Bags
Anti-Lock Brakes
Anti-Theft Systems
Mature Driver Course
Multi-Policy
Multi-Car
Helpful Links
FAQ
Click on each question below to read the answer.
Q. What are some practical things I can do to lower my automobile insurance rates?
A. First, it's important that you get quotes from several companies to compare prices. Also, determine whether you qualify for any discounts. For example, many insurers offer a discount if you insure multiple cars under the same policy and pair your auto and home insurance together for additional discounts. Good driver discounts and good student discounts are other examples of programs insurers offer. Be sure to ask us about any discount plans you may qualify for. Another easy way to lower the cost of your automobile insurance is to increase your deductible. Simply raising your deductible from $250 to $500 can lower your premium by as much as 5% or 10%.
Q. I have an older car that is not worth much - do I really need to purchase automobile insurance?
A. California requires that all drivers have automobile liability insurance. This law was enacted to ensure that victims of automobile accidents receive compensation when their losses are caused by the negligence of others. The cost of repairing an older car is often greater than its value. In this case, your insurer will usually just "total" (consider the car a total loss) the car and give you a check for the car's market value less the deductible. Many people with older cars decide not to purchase any physical damage coverage (comprehensive and collision).
Q. What is the difference between collision physical damage coverage and comprehensive physical damage coverage?
A. Collision physical damage refers to losses you incur when your automobile collides with another car or object. For example, if you hit a car in a parking lot, the damages to your car will be paid under your collision coverage. Comprehensive provides coverage for loss/damages that are not the result of a collision, such as theft, fire, or a hailstorm.
Q. What factors can affect the cost of my automobile insurance?
A. A number of factors can affect the cost of your auto insurance. The type of car you drive, the amount of miles you drive, your driving record and where your car is garaged can all affect how much your auto insurance will cost you. Even your marital status can affect the cost of your insurance.