Condo Unit Owners Insurance
Many owners believe that their Condo Association provides all the insurance coverage they need. In fact, they may need their own policy to cover improvements they've made to their unit as well as their personal belongings, not to mention liability coverage. As your personal insurance agent, we will work with you and your HOA to determine what coverage you need to be fully protected.
Click each item below for more information.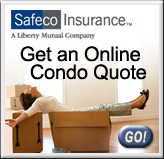 Property Coverage
This typically pays to repair or rebuild your condo if it's damaged or destroyed by an insured event like a kitchen fire or windstorm. Your condo policy will work with your HOA's Master Policy to be sure your condo is fully replaced. Contact us to verify the exact coverage needed for your condo.
Personal Property Coverage
Your condo is filled with furnishings, clothes, tools and other items that make your condo your home. This coverage helps replace these items if they are lost, stolen, or destroyed as a result of a covered loss.
Additional Living Expenses
If you can't live in your condo because of a covered loss, your policy will pay additional living expenses while damage is assessed and your condo is repaired or rebuilt.
Personal Liability
A standard Condo Unit Owner policy provides personal liability coverage, which applies anywhere in the world. This protects you and your family in case someone brings a claim against you or sues you, alleging that you caused them either bodily injury or property damage.
Medical Payments
This covers medical expenses for guest if they are injured on your property. It does not cover health care costs for you or other members of your household.
Additional Coverage
Each condo is distinctive and additional coverage is available to fit your needs. Just a reminder, most condo-unit owners policies do not include coverage for Earthquakes or Flood so be sure to contact us about these and additional coverage options for your condo.
You May Qualify for Discounts
Multi-Policy
Burglar Alarm
Fire Alarm
Condo Building Security
Interior Sprinkler System
Fire Extinguishers
Dead Bolt Locks
Helpful Links