Homeowners Insurance
Whether you are a home or condo owner, a renter or a landlord, Pat Richard Insurance Agency has the coverage to fit your needs and will assist in choosing the insurance coverage that gives you the best value for the best price.
Click each item below for more information.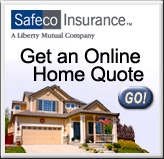 Property or Dwelling Coverage
This typically pays to repair or rebuild your home if it's damaged or destroyed by an insured event like a kitchen fire or windstorm.
Personal Property Coverage
Your home is filled with furnishings, clothes, tools and other items that make your house a home. This coverage helps replace these items if they are lost, stolen, or destroyed as a result of a covered loss.
Additional Living Expenses
If you can't live in your home because of a covered loss, your policy will pay additional living expenses while damage is assessed and your home is repaired or rebuilt.
Personal Liability
A standard homeowners policy provides personal liability coverage, which applies anywhere in the world. This protects you and your family in case someone brings a claim against you, alleging that you caused them either bodily injury or property damage.
Medical Payments
This covers medical expenses for guest if they are injured on your property. It does not cover health care costs for you or other members of your household.
Additional Coverage
Each home is distinctive and additional coverage is available to fit your home's needs. Just a reminder, most homeowners policies do not include coverage for Earthquakes or Flood so be sure to contact us about these and additional coverage options for your home.
You May Qualify for Discounts
Multi-Policy
Burglar Alarm
Fire Alarm
Interior Sprinkler System
Fire Extinguishers
Dead Bolt Locks
Helpful Links
FAQ
Click on each question below to read the answer.
Q. What are some practical things I can do to lower the cost of my homeowners insurance?
A. You may want to start by getting a comprehensive review of your policy and needs from your local agent. Be sure to compare prices; quotes on homeowners insurance can vary by hundreds of dollars for the same coverage on the same home. Also, determine whether you qualify for any discounts. For example, many insurers offer a discount when you insure both your automobile and home with them. Some offer discounts if there are deadbolt exterior locks on all your doors or if your home has a security system. Be sure to ask us about any discounts you may qualify for. Another way to lower the cost of your homeowners insurance is to raise your deductible. Increasing your deductible from $250 to $500 will lower your premium, sometimes by as much as 5% or 10%.
Q. What does homeowners insurance cover?
A. The typical homeowner's policy has two main sections: Section I covers the property of the insured and Section II provides personal liability covered for the insured. Almost anyone who owns or leases property needs both types of insurance. Homeowners insurance is usually is required by the lender to obtain a mortgage.
Q. What is the difference between "actual cash value" and "replacement cost"?
A. Covered losses under a homeowners policy can be paid on either an actual cash value basis or on a replacement cost basis. When "actual cash value" is used, the policy owner is entitled to the depreciated value of the damaged property. Under the "replacement cost" coverage, the policy owner is reimbursed an amount necessary to replace the article with one of similar type and quality at current prices.
Q. What factors should I consider when purchasing homeowners insurance?
A. First, consider the amount and type of insurance you need. Your home should be covered at 100% of its replacement cost. Next consider the limits you need for personal property and personal liability. Then determine whether you want to add any endorsements to your policy, such as a personal property replacement cost endorsement. Review these factors with your agent to determine whether there are any gaps in coverage you may not have been aware of. We can explain the details of the policy's exclusions and limitations as well as recommend an insurance company that will live up to your expectations.
Q. What are the policy limits (i.e., coverage limits) in the standard homeowners policy?
A. The policy limit for the dwelling is set by the policy owner at the time the insurance is purchased. The policy limit for the other structures is usually equal to 10% of the policy limit for the dwelling, unless it is determined that you need additional coverage for a pool, guest house, cabana, etc. The policy limit on personal property coverage is usually equal to 50%-70% of the policy limit on the dwelling. Coverage for additional expenses incurred when the residence cannot be used because of an insured loss (loss of use) is usually limited to 20% of the policy limit on the dwelling.

Other structures, personal property and loss of use limits can be increased for an additional premium. The coverage limit on personal liability is determined by the policy owner at the time the policy is issued. The coverage limit on medical payments to others is usually available up to $25,000 per injured person.
Q. Do I need earthquake coverage? How can I get it?
A. The standard earthquake insurance policy pays for damages directly caused by and Earthquake. This coverage is available to all homeowners as a separate policy. If you live in an area that is more likely to have an earthquake, you'll pay more than if you live in an area that is unlikely to have an earthquake. We can help you weigh the costs and benefits of this coverage before you decide to purchase. The standard homeowners policy does not include earthquake coverage.